General rules, info, and guidelines
Click on the buttons to open the collapsible info!
​Info last updated Feb 2022- updated "edits" section and added "time budgeting" section

​By reaching out to order a commission from me, it is assumed that you've read through this entire page and through my TOS, and you agree to all of it.
Please take the time to at least briefly review any relevant guidelines below.
Bolded sections are particularly important, and should be read fully (not skimmed / quickly looked over)!
Any client considering ordering NSFW content is required to read the 'regarding fetishes and NSFW content' section below, of course.
What you can do with your art:
• Repost it to another website while crediting me
• Use it in a website of the character
• Roleplay using the image as reference
• Write about the character or scene shown in the art
• Sell the image(s) I created for you at equal or lower value to original payment
• You may get a print of the image made onto an object for personal use
• Perform mild edits to the piece, like altering eye color or contrast/color settings

What you can't do with your art:
• You cannot use the art for commercial gain without my written consent
• You cannot use the art in ways to irritate or bother others. This includes using characters in the image that don't belong to you, referencing too closely commission pieces that I'm not aware of, deceiving me in general, or any other manipulating.
• DO NOT use my art and designs, including adopts, in anything NSFW related to: anthro x feral (including beastiality, zoophilia, anything with a humanoid + feral), or underage. NO EXCEPTIONS. DO NOT BUY FROM ME if you want to use characters for these things.
I cannot draw from a shaded or textured image of a character accurately, and therefore I require clients to provide me a clear, unshaded, flat-colored image of their character. These don't have to be high quality at all, and a hand-drawn image from MSpaint could suffice, for example. I only need to see the characters basic colors, their markings clearly, and any anatomy features they have. I highly prefer images of the character that are in profile (side) view so that I can easily see their anatomy, colors, and markings.
IF you only have images of a character from commissioned art, or any art NOT in a flat colored profile (side) view, then please anticipate that I may not be able to work from it.
Providing me shaded/textured/not side view art is not a form of a reference that I accept, unless the character is solid colored or very simple (ex: bicolor, GSD). I require flat, unshaded, and preferably side views to work successfully.
This is an example of a reference that would NOT be acceptable due to it having shading:


This is an example of a reference that would be acceptable: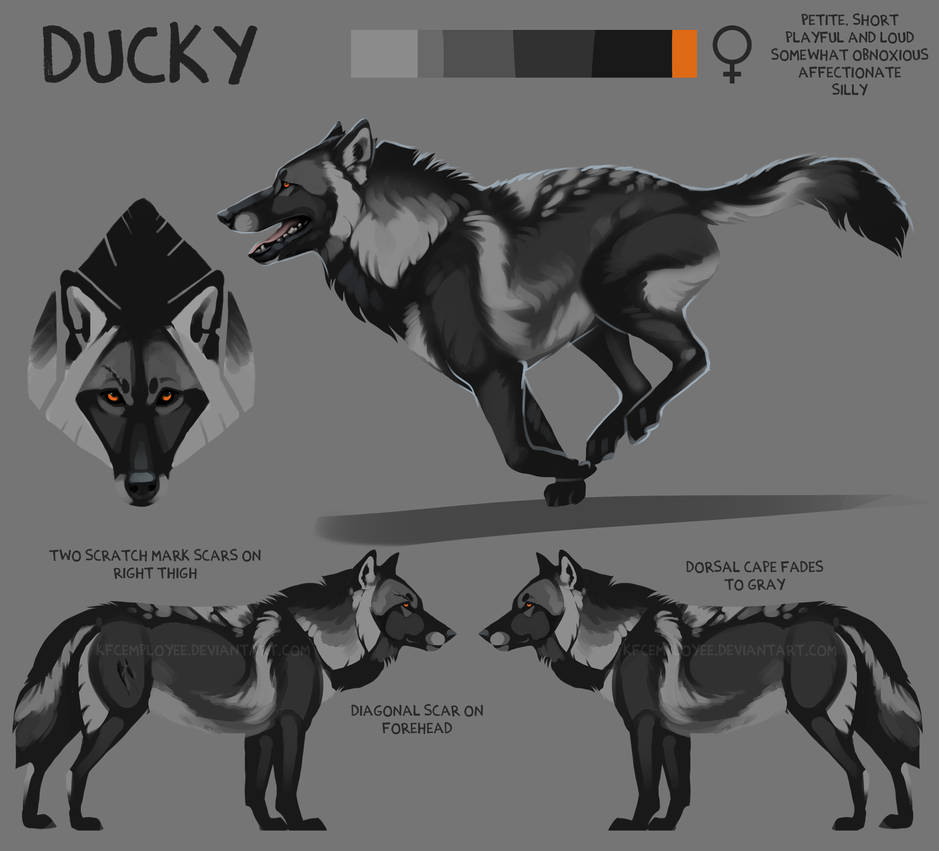 99% of the clients I work with are wonderful and perfect! Only a small few have made the process painful.
I can't work with people who are nitpicky, overly controlling, or very hard to please. In my experience, clients who want a ton of control over the commission process are better off creating the work themselves, to be happiest.
A simple 2-session process with one client may turn into a many month long slog with a nitpicky person.
I ask that nitpicky and controlling people avoid ordering things from me for this reason.

Edits are a natural part of the commission process! A number of edits (see below) are included for free in the cost of the order. These have been budgeted into the time/cost of the order, and the client is free to ask for them! Once all of those edits have been done, though, then any extras would require additional payment to cover them, if i'm available to do more edits.

An edit would be any modification to the art. Things like:
• changing the eye color
• changing scars
• making the ears bigger, tail bigger, that kinda thing
• changing how a marking looks
• slightly changing the position of something
• and more
Each request counts as a separate, 1, edit.

Edits may ONLY apply to the current stage the commission is in- if we've moved on to the flat colors, a client cannot request changes to the sketch, for example.

A client may have a few (free) edits to the order, depending on the type of commission! Here are some examples-
• Design: 4 (from-scratch: 6)
• Reference: 3 (from-scratch: 5)
• Fullbody painting: 5
• Background: 3
• Headshot painting: 3

Once the client reaches their free edit limit, they will then either need to stop asking for changes, or will need to start paying extra to cover my time for additionals.
The cost of the additional edits would be up to me and dependent on the situation.
Edits are not limitless, even if a person is willing to pay for them. I have the right to refuse to do extra edits on any step of the process. There are some projects that I may not have the time-budget to add extra edits onto, besides those already covered in the original price.
I ask that people who are nitpicky, or regularly ask for tons of edits, reconsider ordering from me. Read the above TOS section, "extremely picky clients".

On commissions where a lot of communication is needed, and it has been budgeted for that, then streaming may be required. Streaming would allow the client to watch and give feedback actively, instead of through notes back and forth over a few days. Streaming, and doing these flows of edits, are rather demanding, and may need extra payment to cover the extra work involved.


An important part of the commission business that I've been trying to work on more is time budgeting. Only permitting x order to have y amount of time spent on it, trying to manage time appropriately. Each commission or sale has a certain amount of time, in my mind, allocated to it, which includes communication back and forth, and edits. So if a commission strays outside of the allowed amount of time budgeted for it, there will need to be extra payment for the additional time being put into the order!

Generally I am closed to orders that demand a lot of communication and edits, as I've not had enough time for them.
I would ask that clients be considerate towards the amount of edits allowed in the order, and to remember that I only have a certain amount of time per order. So a client ordering a $200 commission would be unkind to expect $500 worth of edits, streaming, WIPS, etc, from me. It helps a lot if a client could, before ordering, be honest with themselves about what they'll be expecting from the art, and to be prepared for it to be priced according to those expectations.

From the client, I need them to be completely prepared and to have all thoughts final before reaching out, unless the order itself involves working out/completing the rest of an idea (which should be stated clearly and as early as possible, and will require extra payment for my time).

All relevant information on an order needs to be given at the beginning of the process, during the first messages back and forth. Have designs completed if you're ordering a reference or painting, and have all design info ready if ordering a design. Having all information and specifics given at the beginning greatly helps the order go quickly and smoothly.

Specific information I need for most commissions:
• Important elements of the character I'll be drawing, including anatomy (ex: long pointy ears, curved feathery cheeks, longer than normal tail, etc) relevant to your character that you want me to portray
• Specific markings Client wants done a specific way. For example- if they want a marking emphasized or kept as close to reference as possible, Client must let me know.
• Information about the background, if desiring anything specific, including photo references roughly showing your ideas
• Pose(s) Client would like to see, including url links to photos or other art showing concepts similar to what they have in mind. If no pose is requested, I can provide sketches or photo references to choose from
• A reference WITHOUT shading or fur painting for me to draw from

My sketches are usually messy and rough, and they usually don't include accessories, scars, or anything NSFW (unless the order is specifically only NSFW).
Sketches in my process are only important for getting the pose right, and for accurately showing a characters anatomy. Sometimes I'll go back once the piece is colored and make some small anatomy fixes/tweaks that I didn't notice in the sketch.
I paint over the sketch, and it's lost/not used when I begin detailing and extensive shading. In the final product, it'll be barely visible. So please keep this in mind when reviewing your sketch! It's not a final product- it is an idea of where I will be heading.
When a client nitpicks a sketch, it sets off some red flags to me. Sketches are the simplest, fastest part of the commission- if a client has a ton of issues and changes they want on the sketch, it's likely they'll also want a million things changed when I begin coloring. I will probably refund/cancel orders if a client has a ton of criticism during the sketch process. See "extremely picky/specific clients" section.
I can only do work in my own style, using my own methods and techniques.
I will not reference or mimic another artists anatomy (unless that anatomy is specific to the design)- I will only draw in my own style. I ask that clients refrain from requests like "draw x like this artist", etc.
I generally paint in a rough and loose style, more of a 'big picture' method- I reject perfectly manicured brush strokes and perfectly aligned markings.
I try hard to recreate characters as closely as I can, within reason, but I cannot zoom in 300% and change various imperfections. My art is not meant to be viewed that way, and I don't paint with that in mind. Looseness and a bit of abstraction is necessary in my work, and should be expected.

For the client, I will try to be as polite and helpful as possible. I will usually go out of my way to make your order a positive experience, and occasionally I throw in freebies and waive extra fees! I will try to be as professional as I can with you. My goal is to make your experience pleasant and smooth. I try to work through conflict with respect, even under stress or discomfort. If a client isn't satisfied with how their commission is going, or if they're not happy with the final product, I will usually do whatever I can to fix that. I find immense joy and fulfillment in providing clients images they love! I try to be agreeable and light as much as possible. I like humor and chitchat, too, when relevant. I view my clients fondly, and there are many I consider friends.

I am slow to reply to most things, and slow to work on orders usually. Generally, receiving art is a slow process from me, and a person in a hurry should probably not commission me.

From the client I expect to be treated respectfully too, and with trust in the art process. I care a lot about the client and their order, and working with people who are unpleasant kills my creativity. I cannot work with clients who are more negative than positive in the process, nor those that are hyperactive and spamming me for updates. A client can ask for updates on their position in the queue / on their order up to two times per month. When I'm actively working on the order, when it's at the top of my queue, we'll be in constant contact, usually daily or weekly at least. It is usually obvious when I've begun working on a clients order, as I'll be reaching out and constantly communicating with them.

Streaming is pretty rare for me, but I sometimes can be open to doing private streams via picarto or youtube!

From a client, I cannot work with:
• Nitpicking and unrealistic expectations
• Patronizing attitudes in any form, talking down to me
• Ignorance of my TOS, asking me to draw in someone elses style
• Rudeness, bossy attitudes, passive aggression
• Hard to please attitudes, chronic malcontents
• Requesting a ton of changes / edits
• Guilt tripping, manipulation
• Harsh or unkind criticism. Things like "um.. can it look more realistic?" or "that is totally wrong" are considered rude/thoughtless to me.
Basically, please treat me with basic decency and as a professional.

Generally I do not make a ton of mistakes in the commission process, but it can happen! I'm a perfectionist in some ways, but not others, and sometimes I can accidentally skip over a detail. If I make a mistake (like if a character has a long tail, and I forget to make the tail long on my art), then I will fix it, of course! Some (very rare) clients, though, get confused about what's a mistake of mine vs a mistake of theirs, and try to use this to squeeze more edits out of the art without paying.

It is NOT a mistake of mine if:
• The client forgot to mention something, or left it out of the original description
• The client only discovered they wanted something a certain way mid-commission process
• The client noticed an error in something they portrayed/told me, and wants me to fix it
• The client didn't clearly communicate their thought(s)/requests
• The client did not come fully prepared with all info given at the beginning
• The client expected something to be done a specific way, but was not clear or did not specifically mention it (i.e., expecting me to read their mind)

It IS a mistake of mine if:
• I genuinely forgot or did not notice something on the reference or in the info given at the beginning of the order
• I misread something the client gave me (ex: client asks for light blue eyes, I give them deep blue)
Payment is generally sent up front, but I'm flexible. In the past I've allowed for half up front, to get started, and the remaining half when the commission is about 50% done. Payment plans are an option on any order over $100, and the duration of the payment plan is flexible. For a $100 order, I would allow up to 4 weeks to fully pay the commission off, but for something like $300, I might allow 2 months or maybe more.
Paypal is my only accepted method of payment. You can pay on paypal using whatever methods paypal works with, excluding e-checks. I require payment through the usage of paypals invoicing feature, where you're sent a digital bill with a summary of the order, including my terms of service. I'll need your paypal email address to be able to send the invoice.
Currently my commissions queue is quite long, so I have a section in my schedule for "on hold" orders and "active" orders. Your order is considered "active" once I've messaged you and informed you that I'll be working on it shortly! I'll soon be sending you work in progress images for you to look over and approve. During this time, please respond reasonably quickly, within a day or two. Once I've started on an order, I feel compelled to finish it while motivated, inspired, and informed, so delays counteract this and make the work less enjoyable and eat up my time. If a client is slow in responding to me (3+ days delay between multiple replies, or takes a week or more to get back to me) they may have their order put to the back of the queue.
If you're on vacation, need more time to think, or have any kind of delay, please message me about it!
• I have the right to post your commissioned works, in a smaller size, to my website for portfolio usage and to patreon, watermarked.
• I have the right to refuse service to anyone for any reason.
• I have the right to cancel/end an order at any time.
• Unused products, such as thumbnails or sketches, may be altered and sold
I provide full sized files to clients who have paid, in full, for their order as png images. Sometimes they will be transparent, other times they will have backgrounds and not be transparent. Adopts, designs, and references come with transparent background pngs, while YCHs/commissions in general come with pngs including non-transparent backgrounds. Occasionally a YCH/commission will come with a transparent png image as well, but this is not a guarantee. I do not provide photoshop (PSD) files to anyone unless the photoshop file is required for the product to be usable (ex: a recolorable pre-shaded wolf base).
I, like all artists, am the copyright holder to all of the art I make, but, in reality, the only thing that means for me is that I get the joyous privilege of filing copyright claims for reposted art on facebook/pinterest. Despite that, I generally will not give away or sell my copyright for art/designs. If this is an issue for a person, then they should not buy designs or art from me- I'm sorry about that! Very special circumstances, such as writing a novel or doing something commercial, may allow it, when it makes sense.
I am relatively open minded about doing NSFW and fetish art commissions, as long as it's content that I'm okay with! I'm open to drawing situations where all characters involved are consenting, of age, and are having a good time. So as long as those conditions are met, then most fetishes are open for discussion.

Some examples of fetish art that I would be open to: light or heavy bondage, training, dom/sub, possibly vore, possibly some inflation, size difference, 'science', muscle, tentacles, hyper, and many more that I'm not listing here, just for the sake of keeping this list shorter. Feel free to ask!

♦ I DO NOT draw feral x anthro. I only draw anthro x anthro.♦
♦ I DO NOT draw NSFW ferals.¹ Only NSFW anthros.♦

Female genitalia can only be drawn as human, but male can be human or (some types of) animal. Animal types are slightly more expensive, as it takes more time to paint than human. At the moment, the animal types I would consider are- canine, feline, equine, and maybe fantasy/dragon/a hybrid of the previous types.
I will only draw male canine NSFW if the person ordering it has 1) seen my style, 2) likes it / approves. Every artist draws canine nsfw differently, and I will only paint in my own style- please don't ask me to draw like x or y's anatomy/style. By default, male genitalia will be human, and can only be canine if the client knows/approves of my style (obviously).

I will not draw anything humiliating or hurtful. All characters are considered to have a human level of self awareness (basically, humans in animal-like/"were" bodies), and all characters are consenting and of age.
I will NOT draw: incest, rape, zoophilia, beastiality, anything involving poop/pee, bimbo, weight gain, anything involving (unwanted / nonconsentual) pain or suffering, anything involving underage characters. Anything where characters are unhappy or having a negative experience is not something I will draw.
I don't have anything against macro/huge ocs with small buildings/etc, but I'm unlikely to draw it because it's rather complex.
I am not open to anything ageplay related, nor diapers.

Subjects that I could be convinced (paid extra) to draw, but am not immediately open to, are voyeurism, pet play, pony play, and feet/paws.

For NSFW orders, please talk about all characters involved respectfully and with dignity. I prefer body parts to be called by their anatomically-correct names (penis/scrotrum, vagina/labia), but publicly-common names are okay too (cock/dick/balls, pussy). Please don't use gross language like "meat" or "cookie" or things like that, it makes me uncomfortable.
Calling characters hoes, sluts, and other derogatory names is offensive to me and is against my TOS.
I expect our conversations about the order (regardless of it being porn) to be professional. Try to keep language tame and mild, please.

¹ Why I no longer draw feral nsfw:
I drew feral nsfw for a short period of time, and it turned out to be something I did not like and ultimately found repulsive/unethical. I drew them under the strict context of it only ever being feralxferal (no feralxanthro), and of all ferals being human-minded (human self-awareness). So ever since, all feral content has been+will continue to be sfw, and I have no regrets about getting out of that subjectmatter. I wish I'd have gotten out of it sooner, or better yet- never drew it in the first place.
I understand where someone is coming from when accusing this, but it is generally baseless with me/my art. I never have + never would colorpick from other artists designs/adopts, nor do I look at other artists designs while making my own. All adopts of mine are made up from my imagination, or from stock photos (but photos of real animals/etc). I also critically inspect each adopt/design of mine before it is published, usually 3 times at least, checking for anything being too similar to other works of mine. I go through my entire gallery, not just the art within the past year or so.
So, pretty much all similarities are purely coincidence, and when shown side by side, this can be seen easily.

I take these accusations very seriously, regardless of them being likely baseless. I inspect both of the designs, compare them side by side on the same lines, compare palettes, compare marking placement- everything is scrutinized. I have peer artists and non-artists look at them to give their (honest, not trying to protect my feelings/etc) opinions. So far in my 10 years doing art for other people, I've not yet had to change a published/final adopt/design as a result of it being too similar to anothers. But if ever it did happen, I'd obviously fix my design and change it to be significantly different.
I love all animals and fantasy creatures, as well as hideous monsters and the macabre. I have no restrictions on color palettes except that they're relatively realistic and aesthetically pleasing to me without any immensely saturated, bright colors clashing with each other. I don't get many orders to draw humanoids, but I'm not against it and would be interested in exploring that area. I do not draw any human hair on animals as it doesn't fit in well with my style. I also do not draw contemporary, modern clothing clothing on animals, but I enjoy fantasy designs and other accessories or clothing pieces on them. Lastly, I do not draw over-simplified markings, or markings found in the human world such as geometric shapes, as they generally turn out poorly in my style.
I will draw:
• Any animal
• Any fantasy creature, mythological creature, demon, monster, or made up creation
• Humans or humanoid creatures (experimental)
• Fantasy clothing, historical clothing, or made up clothing themes that don't reflect the modern world.
• A wide range of colors
• Complex markings and color combinations
• Erotic, adult content including some fetishes. Read above!
• Gore and blood, dark themes
I won't draw:
• Modern clothing on animals, such as hoodies, socks, or top hats, for example.
• Geometric or overly simplified markings. Ask if unsure!
• Violent or disturbing torture
• Fetishes that are disturbing to me. Read below!
• Human hair on animals, generally