General rules, info, and guidelines
Click on the buttons to open the collapsible info!
​Info last updated September 2020

​
By ordering a commission from me, it is assumed that you've read through this page and through my TOS. In other words, going forward, it is assumed you know your rights to the commission, along with all relevant guidelines from me on this page. Reading through all of this protects us both, and failing to do so may end in a canceled commission.
Please take the time to at least briefly review any relevant guidelines below.
ALL clients ordering a commission must read the sections on picky clients, edits to an order, info I need from a client, and the client to artist relationship. These are very important pieces to having the commission go well!
It is obvious when a person has not actually taken the time to at least skim through these things.
I cannot draw from a shaded or textured image of a character accurately, and therefore I require clients to provide me a clear, unshaded, flat-colored image of their character. These don't have to be high quality at all, and a hand-drawn image from MSpaint could suffice, for example. I only need to see the characters basic colors, their markings clearly, and any anatomy features they have. I highly prefer images of the character that are in profile (side) view so that I can easily see their anatomy, colors, and markings.
IF you only have images of a character from commissioned art, or any art NOT in a flat colored profile (side) view, then please anticipate that I may not be able to work from it
Providing me shaded/textured/not side view art is not a form of a reference that I accept, unless the character is solid colored or very simple (ex: bicolor, GSD). I require flat, unshaded, and preferably side views to work successfully.
This is an example of a reference that would NOT be acceptable due to it having shading:
This is an example of a reference that would be acceptable: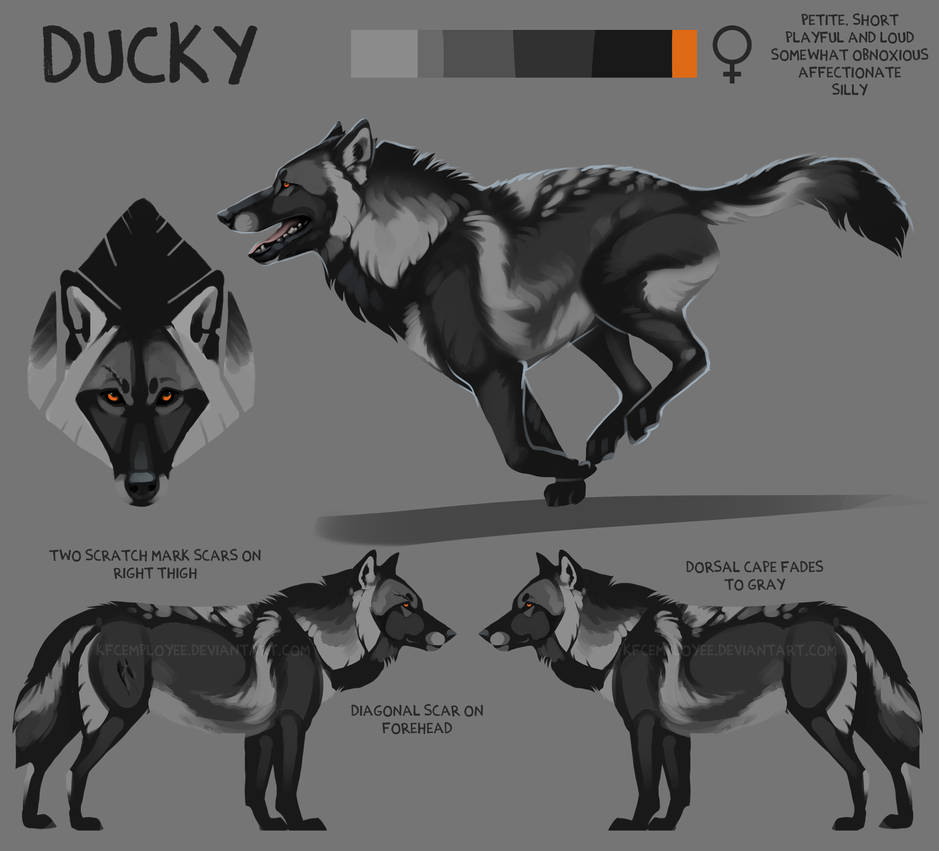 I am no longer able to work with people who are excessively picky, hard to please, or controlling. Previously, I would accept these orders but charge these clients extra for all the extra work that goes into it, but now I would just ask that these types of people not order from me. It is too emotionally draining to work with malcontents. I work best with people who trust me on some level.
If you've ordered from me before, especially more than once, then this almost certainly does NOT apply to you! This is mainly aimed at new and first time clients, where we haven't worked together before or established a relationship. Almost every single client I've worked with has been wonderful- only a handful have been incompatible.
I will still be charging $5-$15 per change/edit request past the included/free 3 changes/edits. A client will have three opportunities to request a change or edit to their order during the process. This can be anything- making the tail shorter, changing the eye colors, changing a marking or color, etc. After I've made three changes/edits to your commission, then every extra change/edit afterwards will cost an additional $5-$15. This is in place so that I can be paid fairly while spending extra time on the order. Too many edits or changes requested may result in a cancellation and proportionate refund. See the above section, "extremely picky/specific clients". Mistakes of my own (ex: if I get the eye color wrong, or miss something important on the anatomy) don't count towards this fee!
From the client, I need them to be completely prepared and to have all thoughts final before reaching out, unless the order itself involves working out/completing the rest of an idea (which should be stated clearly and as early as possible). All relevant information on an order needs to be given at the beginning of the process, during the first few messages back and forth. Have designs completed if you're ordering a reference or painting, and have all design info ready if ordering a design. Having all information and specifics given at the beginning greatly helps the order go quickly and smoothly.
Specific information I need for most commissions:
Important elements of the character I'll be drawing, including anatomy and markings that you specifically want to be as accurate as possible

Information about the background, if desiring anything specific

Pose(s) you would like to see, including url links to photos or other art showing concepts similar to what you have in mind. If no pose is requested, I can provide sketches or photo references to choose from/p>

A reference WITHOUT shading or fur painting for me to draw from
For designs, the below link contains much of the information I need to get started: https://sta.sh/06gmrz8x1b
Sketches are almost never an accurate snapshot of the finished product. I paint over the sketch, and it's lost/not used when I begin detailing and extensive shading. In the final product, it'll not be visible anywhere. So please keep this in mind when reviewing your sketch! It's not a final product- it is an idea of where I will be heading. My sketches are usually messy and rough, and they usually don't include accessories, scars, or anything NSFW (unless the order is specifically only NSFW). Sketches are only important for getting the pose right, and for accurately showing a characters anatomy. Sometimes I'll go back once the piece is colored and make some small anatomy fixes/tweaks that I didn't notice in the sketch.
When a client nitpicks a sketch, it usually sets off some red flags to me. Sketches are the simplest, fastest part of the commission- if a client has a ton of issues and changes they want on the sketch, it's likely they'll also want a million things changed when I begin coloring. Due to some recent very negative experiences with people like this, I will probably refund/cancel orders if a client has a ton of criticism during the sketch process. See "extremely picky/specific clients" section.
Payment can be sent in two ways: before the order is complete, or after it's complete. Usually the only time orders are paid for ahead of time, before it's done, is when I'm in an emergency, or if they're an adopt or YCH. Otherwise, I usually like to have payment sent once we're both satisfied with the trajectory of the commission. Payment should be sent immediately after completion, no delays. You will not receive the full sized image until payment is acquired.
I accept payment plans, when advertised, and when asked for on commission orders $100 or over. For orders between $100-$200, I will require payment once at the start of the order and once again a week later, or when the order is completed. For orders greater than this amount, you and I can discuss something and work it out.
Paypal is my only accepted method of payment. You can pay on paypal using whatever methods paypal works with, excluding e-checks. I require payment through the usage of paypals invoicing feature, where you're sent a digital bill with a summary of the order, including my terms of service.
Currently my commissions queue is quite long, so I have a section in my schedule for "on hold" orders and "active" orders. Your order is considered "active" once I've messaged you and informed you that I'll be working on it shortly! I'll soon be sending you work in progress images for you to look over and approve. During this time, please respond reasonably quickly, within a day or two. Once I've started on an order, I feel compelled to finish it while motivated, inspired, and informed, so delays counteract this and make the work less enjoyable and eat up my time. If a client is slow in responding to me (3+ days delay between multiple replies, or takes a week or more to get back to me) they may have their order put to the back of the queue.
If you're on vacation, need more time to think, or have any kind of delay, please message me about it!
For the client, I will try to be as polite and helpful as possible. I will usually go out of my way to make your order a positive experience, and occasionally I throw in freebies and extras. I sometimes don't charge a client the edits/changes fee after they've surpassed their limit, if they're kind and easy to work with. I will try to be as professional as I can with you. My goal is to make your experience pleasant and smooth. I try to work through conflict with respect, even under stress. If a client isn't satisfied with how their commission is going, or if they're not happy with the final product, I will do whatever I can to fix that, even if it includes refunding them proportionately. I am slow to reply to most things, and slow to work on orders usually. Generally, receiving art is a slow process from me, and a person in a hurry should probably not commission me.
From the client, I expect to be treated respectfully and with at least some level of trust in the art process. I care a lot about the client and their order, and if the client is rude or unpleasant, it greatly affects me and my ability. I cannot work with clients who are more negative than positive in the process, nor those that are hyperactive and spamming me for updates. A client can ask for updates on their position in the queue / on their order up to two times per month. When I'm actively working on the order, when it's at the top of my queue, we'll be in constant contact, usually daily or weekly at least. It is usually obvious when I've begun working on a clients order, as I'll be reaching out and constantly communicating with them. I expect the client to never guilt trip me or try to manipulate me into anything. A client may ask me to stream for them, and I may accept if I have the energy and time that day, but streaming is rare for me. If the client and I communicate mainly through discord, then I expect the client to respect that my discord is personal and when I'm online, I'm not working 100% of the time. I only work for a few hours per day.
From a client, I absolutely do not tolerate:
Hard to please attitudes, making me "work for" approval on even simple things

Chronic malcontents, where it seems like nothing is quite right or good enough

Passive aggression

Blatant rudeness

Harsh, disrespectful, or unhelpful criticism (ex: "um.. can it look more realistic..?" "x y or z looks totally wrong", etc)

Guilt tripping, manipulation, or threats

An absurd or constant amount of edits or changes

Controlling tendencies or a lack of trust in me

Pushy, bossy, or condescending attitudes

If any one, or a combination, of these behaviors are displayed, I may cancel and proportionately refund the order.

For NSFW orders, I have some guidelines and do's/don'ts- please see the below section!
Commission turnaround time can vary wildly, but most clients wait between 2 to 8 months for their work to be finished, unless we've setup a deadline or it's a rush order. Generally a client begins the commission process by reaching out to me via deviantart, discord, furaffinity, or by email, usually asking if I'm currently open, and if I'd be interested in doing x or y or z (ex: a design, a reference, etc). I will then send back a reply, and will provide them with a link to fill out one of my relevant google forms to begin the process, if I'm open or if they want an estimate for a future order. Once the form is filled out, I'll provide the client with an estimate for the order. If the estimate looks good to them, and if everything looks correct, then I will set up a folder for the client and I via deviantart's stash (their image storage site) with the clients info and relevant files. Once the invoice is paid, the order will be added to my commission queue, usually near the bottom. I will almost always send the client a work in progress preview of the order, and will request feedback to see if the order's looking good (or not) so far, and if I should change anything. Once this review stage is over, once the client has approved, then I'll finish up the commission.
I generally work on orders oldest to newest. Sometimes I may jump ahead and choose a newer commission if it fits into the time I have allowed to work on that specific day- usually these are simple and quick orders. Orders that are complex or those that have multiple projects within them (ex: a design + reference, or a painting + background, or a multi-pose reference) take longer than one dimensional orders (ex: a ref from a base). Complex orders take much more time, and so the process is generally longer to correctly produce them.
Clients are free to message me and ask for updates on their orders! If I have updates, I generally reach out to the client first with the news.
I love all animals and fantasy creatures, as well as hideous monsters and the macabre. I have no restrictions on color palettes except that they're relatively realistic and aesthetically pleasing to me without any immensely saturated, bright colors clashing with each other. I don't get many orders to draw humanoids, but I'm not against it and would be interested in exploring that area at a, perhaps, lower cost for the experimentation factor. I do not draw any human hair on animals as it doesn't fit in well with my style. I also do not draw contemporary, modern clothing clothing and accessories on animals, but I enjoy fantasy designs and other accessories or clothing pieces on them. Lastly, I do not draw over-simplified markings, or markings found in the human world such as geometric shapes, as they generally turn out poorly in my style.
I will draw:
Any animal

Any fantasy creature, mythological creature, demon, monster, or made up creation

Humans or humanoid creatures (experimental)

Fantasy clothing, historical clothing, or made up clothing themes that don't reflect the modern world.

A wide range of colors

Complex markings and color combinations

Erotic, adult content including some fetishes. Read below!

Gore and blood, dark themes
I won't draw:
Modern clothing on animals, such as hoodies, socks, or top hats, for example.

Geometric or overly simplified markings. Ask if unsure!

Violent or disturbing torture

Fetishes that are disturbing to me. Read below!

Human hair on animals, generally
I am relatively open minded about doing NSFW and fetish art commissions, as long as it's content that I'm okay with. I'm open to drawing situations where all characters involved are consenting, of age, and are having a good time.
Some examples of fetish art that I would be open to: bondage, dom/sub, possibly vore, possibly some inflation, size differences, science, muscle, tentacles, and many more.
For NSFW orders, please talk about all characters involved respectfully and with dignity. I'd appreciate it if body parts were called by their anatomical or common name, not provocative nicknames (ex: "cookie").
Please be aware that I am rather sensitive to NSFW content involving female characters. It is very situational and my willingness to draw female nsfw depends entirely on the content of the order, and who's ordering it. I will only draw female characters if they're talked about respectfully, not as "hoes" or "sluts", etc. For that matter, I'll not work with anyone who refers to their character of any sex or gender as hoes/sluts/other disrespectful language. Anyone overly objectifying their characters or being gross will not be worked with.
I DO NOT draw feral x anthro. I only draw anthro x anthro or feral x feral. I will not draw anything humiliating or hurtful. All characters are considered to have a human level of self awareness (basically, humans in animal bodies), and all characters are consenting and of age. I will NOT draw: incest, rape, zoophilia, beastiality, anything involving poop/pee, bimbo, weight gain, anything involving (unwanted / nonconsentual) pain or suffering, anything involving underage characters. Anything where characters are unhappy or having a negative experience is not something I will draw. I also am unlikely to draw more than 2 characters in a scene, in a NSFW context.
What you can do with your commission:
Repost it to another website while crediting me

Use it in a website of the character

Roleplay using the image as reference

Write about the character or scene shown in the commission

Sell the image(s) I created for you at equal or lower value to original payment

You may get a print of the image made onto an object for personal use

Perform mild edits to the piece, like altering eye color or contrast/color settings.
What you can't do with your commission
You cannot use the commission for commercial gain without my written consent

You cannot use the commission in ways to irritate or bother others. If I find out that you used me to make an image that offends or otherwise negatively impacts other people, you will be blacklisted. This includes using characters in the image that don't belong to you, referencing too closely commission pieces that I'm not aware of, deceiving me in general, or any other manipulating.
I have the right to post your commissioned works, in a smaller size, to my website for portfolio usage and to patreon, watermarked.

I have the right to refuse service to anyone for any reason.

Unused products, such as thumbnails or sketches, may be altered and sold
I provide full sized files to clients who have paid, in full, for their order as png images. Sometimes they will be transparent, other times they will have backgrounds and not be transparent. Adopts, designs, and references come with transparent background pngs, while YCHs/commissions in general come with pngs including non-transparent backgrounds. Occasionally a YCH/commission will come with a transparent png image as well, but this is not a guarantee. GIF files will be given to clients who order an animated image.
I do not provide photoshop (PSD) files to anyone unless the photoshop file is required for the product to be usable (ex: a recolorable pre-shaded wolf base).
' With almost 100% certainty, I can confidently say that no, they probably do not truly look too similar. I've not had a single case where my designs are too similar to anothers in the entire 8 years I've been creating them. I don't look at other peoples work while designing, obviously, and designs I've been accused of referencing are designs I've usually not even seen before. It is embarrassing on the part of the accuser, it wastes both of our time arguing about it, and the result is always the same- no, the designs are not actually too similar. Whoops.